Peanut was a good dog and a good friend. She just turned 14 years old, which is way up there for a Great Dane. I guess the "mix" part of "Great Dane mix" added to her lifespan.
We got her for free from someone giving away puppies in a Walmart parking lot. She had recently been weaned and her feet were so big she could hardly walk. She tripped everywhere she went. When she was grown she could run as fast as any dog I've seen outside of a racetrack, but she could never accelerate quickly or turn quickly, so cottontails usually evaded her. I remember seeing her catch one once. Another dog was chasing it and it made a sharp turn to avoid the first dog and ended up in Peanut's mouth.
We box trained her as a puppy so she could stay in the house. Pretty soon she was so big she crushed the box but she insisted on sleeping on the flattened remains. One day we threw out the old box and she didn't know what to do.
When she was little puppy she used to like to sit under the coffee table. We made her stay outside for a time while she was growing up (I think we were dealing with a flea problem) and when we let her back in the first thing she did was try to run and dive under the coffee table. Not realizing how much she had grown she banged her head on the side of the table and nearly tipped it over.
One time while we were on vacation it rained a lot. Everything was muddy. When we got home we went into the fenced back yard and Peanut said "hello" by jumping up and putting a giant muddy paw print on my wife's chin.
These pics are all of her later in life because the puppy pics are still on the old computer or on discs. I'll have to get some of those out and post them.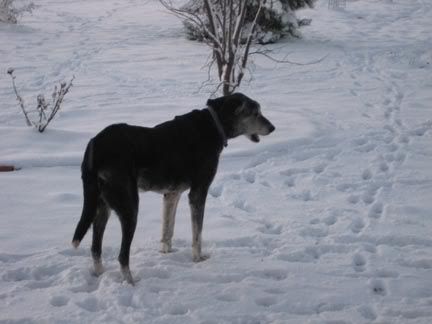 We buried her in the field in front of the house next to the driveway so she can watch over us.
We miss you Peanut. I'll bet you're catching a rabbit right now.