We were in the back yard. Being out of the city it is closer to camping than you think. Here is a pic of our little tent.

One thing we did was have a fire and cook hotdogs and marshmellows over it. It had rained hard earlier in the day and everything was very damp and humid. I thought I'd try out a
Coleman Fire Starter
. It is a block of magnesium with a flint epoxied to the side and a steel striker attached on a chain.
One problem with this item as it comes out of the package is that the chain is too short. With the steel still attached to the chain you can barely move the steel enough to scrape off the magnesium dust and there is not way you could strike well enough to get sparks. Seems to me that the reason for the little chain is to keep you from losing the little steel scraper/striker so having to take the steel off the chain defeats that purpose. For that matter I don't like or trust the little ball chains. They are fine for light switches in unfinished garages but I don't like to depend on them. When I have a few minutes I'm going to throw that little chain away and replace it with either paracord or maybe 50lb test fishing line. I'll make sure I have enough length to use the tool without separating the pieces.
To use the tool you first scrape off a little pile of magnesium dust or chips. Use plenty, especially if you have trouble finding dry tinder. The little pile will burn hot but it burns very fast. Check out the wet spots on my shirt - I told you it was humid.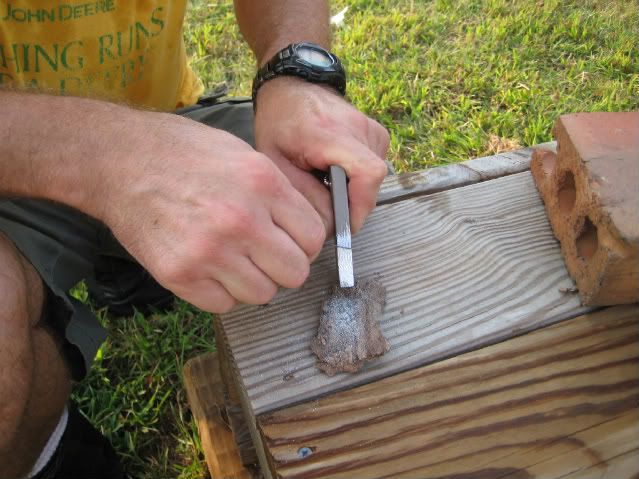 Now you put your little pile down near some dry stuff and scrape some sparks into it. It takes a little practice to get the sparks to go near where you want them to, or at least it did for me.
When you hit the pile of shavings with enough sparks this is the result. The fire wasn't near as close to my boot as it looks in that pic.